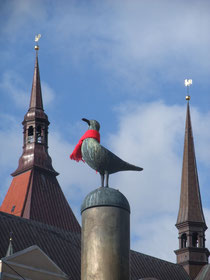 To be honest the season for all the cruise ships hasn't started here yet. And that's a real pity, because we have a sunny and fairly warm February this year. Perfect weather to see the city, take a walk along the beach or explorer the smaller villages around Rostock and Warnemünde.
There are tourists here now, too. But they are mainly Germans who come for a weekend or a couple of days to get out of the big hectic cities and relax in a spa hotel. 
The season for the cruise ships and with them for the international travellers starts in May and goes until September. But I would guess that that will change within the next 5 years. Why not do a cruise in the Baltic in March or April? 
Wouldn't it be nice to get away from the severe cold in North America or the rain and floods in Great Britain? 
There is the risk of ice of course, but most years the Baltic around Rostock has been icefree and accessable for ships even in January. 
And to have a hot chocolate with a nice piece of Schwarzwälder Kirschtorte is just wonderful after a sightseeing tour through the city or a walk on the beach.