This blog article is in English, because it might interest international travellers. Especially those who have booked a cruise in the Baltic this summer.
What's the most important thing for you on a cruise? The food? The entertainment? The life jacket? Or the cities, harbours and landscapes that you are going to visit?
The food is essential! Without good food you don't have to go on a cruise. You can stay at home and save a lot of money by buying the Deal of the Day at TacoBell.
But if it's only food, entertainment and the spa that counts you wouldn't go all the way to the Baltic for your cruising holidays, right?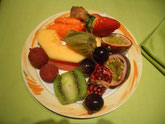 So hopefully you'll agree with me: A cruise is not a success if the shore excursions are dull, not well-organized, too expensive or simply don't show you what you really want to see.
The Baltic is a destination that boasts with cultural highlights. Copenhagen, Helsinki, Stockholm, Danzig, Rostock/Warnemünde, St. Petersburg...
Every port has tons of historical buildings: Cathedrals, Castles, City Walls, Towers, Abbeys... 16th century art, 14th century paintings, 13th century stones...
Most people do a cruise in the Baltic once in their life. It's not a typical destination for repeaters. And so it's only normal that you don't want to miss anything.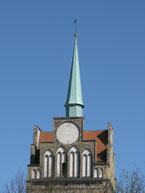 Of course you can just book one of the shore excursions that your cruise ship company offers. They are usually ok. They get you on a bus with 35 to 48 others and show you the main sights - or at least that's what they advertise. 
(I was surprised to read about a "TOP10 Tour" that expicitly shows you everything there is to see - and leaves out the historic part of the city with two important churches and perfectly restored old warehouses.)
Apart from that the drawbacks of these tours are clear:  you are always in a big group, you can hardly hear the guide if he is explaining something along the way, you can't stop to take a picture, buy a souvenir or take a break wherever you want, you can't ask a question, you can't just make a little detour or change the itinerary if you feel like it or if the weather is bad or if you want to get away from the masses.
This wouldn't be so bad if these shore excursions were cheap. But on the contrary! I think they are way too expensive for what they offer!
You pay between 40,- to 70,- Euro for a half day excursion. So it's easy to calculate how much money is earned with a full bus. And you can be sure that the guide, the bus company or the shore excursion company sees just a small percentage of that money. It's the cruise ship company that makes the profit. That's why they are so eager to sell the excursions (and get them paid completely) even before you step on the ship. 
On some cruise ships you don't get much information if you ask about things you can do on your own. Or they might even scare you with all kinds of dangers - and the ever looming scenario that you could miss the ship!
At least for Rostock I can tell you: No unusual dangers, good and dependable public transportation and lots of things you can do and see on your own! 
If you still prefer to do a tour with a guide, get information about the history, the life and the landscape you are visiting or if you have a very specific request (Like the tour I have just fixed with a traveller: He wants to go to the little village in Mecklenburg that his ancestors came from 150 years ago.), book a local, private guide. It's worth it! 
Of course you can also hop in a taxi - they are waiting at the cruise terminal - but many drivers have little or no English and so it will be a point-and-guess kind of tour.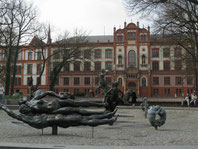 One more thing about Rostock: Rostock and Warnemünde is the same place! It is a little confusing, because cruise ship companies sometimes write Warnemünde, others speak of Rostock and quite a few claim to dock in Berlin! Don't let them fool you: Berlin is roughly 250 km south of Rostock. So it takes 2.5 to 3 hours by bus or train to get there. 
Berlin is a fantastic city! You should really go and see the sights!
But I'd recommend to take 2-4 days to see everything. Don't force a Berlin visit into your Baltic cruise. You spend more time on the bus or train than in the city itself. 
Besides you'd miss a lot of fabulous things that are much closer to the port.
More questions about Rostock? Shore excursions? Cruises in general? Train travel in Germany in particular? 
Or a specific tour you would like to do while you are here?
Just let me know! I'd be very happy to help you have a great day ashore!!